U13 hurlers pipped in plate final: Commiserations to our U13 hurlers who were narrowly defeated last weekend in the plate "A" final against Arklow. The team showed tremendous heart throughout. They draw level in the third quarter such was their determination. Unfortunately, the game got away from them in the fourth quarter. Read a match report bottom of this page.
Minor girls footballers off to a flyer: It was a great championship start for our minor girls footballers. They had a great, spirited victory against Newtown. Well done to all the management and players. Some of whom were also involved in the adult ladies team which made such good progress this year. Next up is Carnew in the quarter-finals.
Football, Pizza and All-Ireland Champs…what could be better! What a day our girls U10 and 12 ladies footballers had yesterday. They played football, ate pizza and got to meet Laurie Aherne and Megan Healy two of our club's All-Ireland Junior football winners. Pretty much the perfect day! And well deserved too considering the great effort they have put in all year. See some more snaps HERE.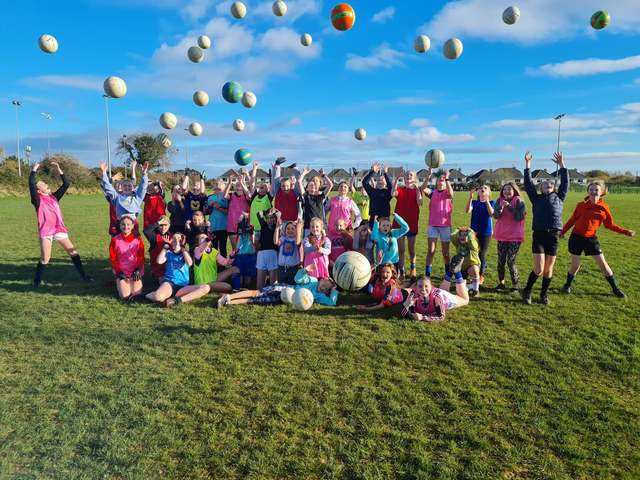 Blitz Bonanza: It may officially be the off-season, but that hasn't stopped our U9/10/11/12 camogie players from keeping things going. Yesterday saw 101 young women showing off their skills in glorious Autumn sunshine. They too got some well-earned treats after their endeavours. See some more shots of them in action HERE.
Weekly lotto: Our weekly jackpot goes unwon. Last week's winning numbers were 4, 22, 24 & 30. The weekly prize winners were JP Connolly and Rachel Kennedy. This week's jackpot is €4,500. Get your €2 tickets HERE.
U13 Hurlers: Arklow Rocks 3-7: Éire Óg 2-6
Arklow Rock Parnells talented group of young hurlers resisted the staunch challenge of a relentless Éire Óg to win the under-13 plate on Saturday.
Star of the show was ARP's Sé Killoran, who was magnificent all afternoon, both defensively and going forward, as he regularly mopped up possession and unleashed relentless ARP comebacks throughout.
He was not alone in standing out, of course. Bill Connors was lethal up front with 1-4, while Jim Connors was a livewire and scored two of the goals. At the other end of the pitch, Finn O'Leary was terrifically stoic in defence, as was Edward Breslin and Nicolas Maxwell, while Tiernan Pierce was tireless in midfield.
On the flip side, Éire Óg showed tremendous heart throughout, despite trailing by 2-4 to 1-1 with goals from Jim Connors (2) for ARP and Dean Barry for Greystones. Indeed, a rapid third quarter saw them draw level through. Fiachra Browne goal, such was the determination with which they played.
Unfortunately for Éire Óg, they ran out of steam in the fourth quarter and eventually succumbed to the pressure. After three attempts at setting up a third goal, Sé Killoran finally pad the difference when his 65 found Tiernan Pierce, whose blocked shot initiated a goalmouth scramble that ended with Bill Connors thrashing the ball home for the final, match-winning goal at the end of an enthralling game of hurling.
Greystones had put an inhumane amount of energy into drawing themselves level that they did not have enough left to repel a resilient ARP when they kicked into gear in the fourth quarter and, ultimately, won the day.
Eire Og: Patrick O'Boyle, Sean Ryan, Conor Lehane, Finn Geoghegan, Ciaran Darcy, Tom Fox, Dean Barry (1-4, 3f), Cillian Brady, Conor O'Sullivan, Ciaran Duddy, Fiachra Browne (1-1), Callum Clarke Twomey, Jamie Giles, Eoin O'Neill, Sean Griffin (0-1), Hugo Fallon, Deaglan O'Neill.