U14 camogie team makes history: Mark the date, for the first time in the club's history, we have won a camogie county championship. Last weekend, our U14s beat Arklow to claim the county U14 "B" championship. What an achievement for the camogie section which was only formed in recent years. With the way camogie is progressing in the club, it'll be the first title of many! Read a match report at the bottom of the page.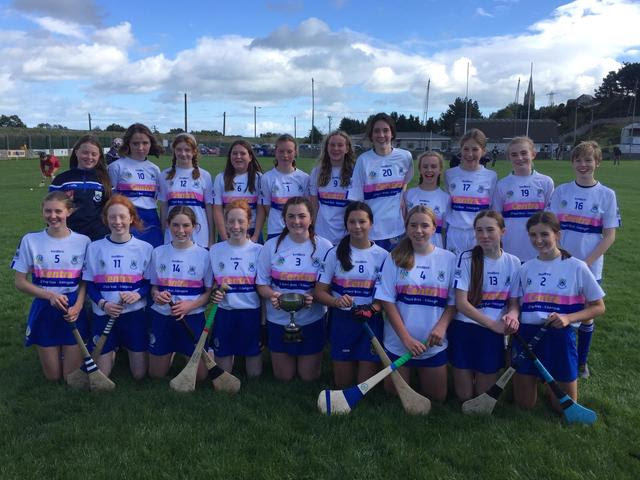 Autumn Coach Education: Update your coaching skills by taking the GAA Foundation Award or upskilling by doing the level one coaching award. Register your interest https://forms.office.com/Pages/ResponsePage.aspx…
Club AGM: This year's AGM will take place on 11 November. It is provisionally set for the clubhouse dependant on the easing of Covid restrictions. This a chance to learn more about how the club is run and to have your say.
U11 boys footballers on the treble: Our three U11 boys footballers were all in final action this week. As Meatloaf said "two out three ain't bad" as two of the teams came out on the winning side. While it's always nice to get some silverware, winning it's the be-all and end-all. These young men have made great progress this season and are a credit to their families, club and mentors
Weekly lotto: Please don't forget our weekly fundraising lotto. This year, normal fundraising activities have been hugely curtailed so we're more reliant on the lotto than ever. The winning numbers in last week's draw were 1, 11, 20 & 30. As nobody matched all four numbers another €100 is added to the draw meaning the jackpot is now €3,900. Catherine Coveney and Brianan Holohan were the weekly cash prize winners. Get your tickets for next week's draw HERE.
Big days for ladies football: There are two big events this week for our ladies footballers.
Tomorrow, Sunday our adult ladies footballers face St Pat's at home in the championship at 11 am. This is a must-win game if they want to progress to the semi-finals.
On Tuesday, 12th at 8:15 is our first Gaelic for Mothers & Others session. This is a great way to get exercise, meet new people and have fun in a non-competitive environment. No previous experience is necessary. Contact Nicola at 087 9386021. More info at https://eireoggreystones.com/gaelic-for-mothers-and-others/
Our U14 Camogie team came out on top in the U14 B County Final, defeating Arklow Rocks down in Pearce Park last Sunday by a score of 9-4 to 1-3. Playing against the wind in the first half the girls battled through a tough opening quarter before a flurry of scores put them well ahead by half-time. More scores followed in the second half for a well-deserved victory, and captain Leah Fallon collected the cup and the first county title at any level for Eire Og Camogie! This is hopefully just the first of many successes for our camogie teams. Many thanks to all the family and friends who travelled down to support the girls. Also thanks to Dan & Hughie from Centra Eden Gate who had the girls looking stylish in their new jerseys!
U13 Boys Footballers: Éire Óg and Arklow Geraldines Ballymoney served up a tough, tense, thriller of an under-13 'A' Trophy final with one team being in control, the other team coming back, a late goal – everything that you'd want.
A strong breeze blew from one end to the other and Éire Óg made use of it in the first half. Conor Keogh's cultured left boot swung over three points, while he was given too much space for his goal. The Greystones team led by 1-4 to a point at half-time.
Yet Arklow were well able to stay with the Greystones lads, even against the wind. For the last ten minutes of the half, they laid siege on the Éire Óg goal, though the Éire Óg defence was well up to the task. Cian Donnelly made some excellent blocks too in the full-back line.
Throughout the match Sean Howard was immense for Éire Óg around the middle of the field, a skillful player who can win his own ball and pick out a fine pass.
AGB enjoyed the wind in the second half and turned the tide around to lead by a point after 42 minutes. Jim Connors was to the fore, kicking his 1-2 in that 12-minute spell, while Cian Tansey added the second goal as AGB went into the water break leading by 2-4 to 1-6.
Éire Óg were struggling to get the ball out of their defence against the wind.
The final quarter was a cagey affair, neither team wanting to make a mistake. AGB will rue their many, many wides to extend the lead.
As the clock ticked down, it was Éire Óg's turn to lay siege on the Arklow goal.
The ball ricocheted off this leg and that, players shouted that it was wide, the umpire didn't say anything, the referee kept playing, the ball flashed across the goalmouth, Ruairi Shaw got a touch, and it was a goal for Éire Óg. They led by two.
AGB had a couple of late chances to draw and converted one of them, but it wasn't enough.
Delirium for Éire Óg, sadness for AGB, enjoyment for everybody there.
Eire Óg: Dean Barry, Cillian Brady, Fiachra Browne, Callum Clarke Twomey, Nathan Corrigan (0-1), Jamie Coyle, Ciaran Darcy, Cian Donnelly, Finn Geoghegan, Sean Griffin, Sean Howard (0-1), Conor Keogh (1-5, 1f), Conor Lehane, Patrick O Boyle, Deaglan O'Neill, Eoin O'Neill, Conor O'Sullivan, Sean Ryan, Ruairi Shaw (1-0)