Weekly lotto: The winning numbers in last week's fundraising lotto were 6, 19, 25 & 26. Nobody matched all four numbers so next week's jackpot rises to €3,300. The weekly cash prize winners were Tara Murray and Amanda Casali. Tickets for next week's draw HERE
U11 footballers in great form: Our U11 team football teams were in action during the week against Arklow, St Pats and Shillelagh/Coolboy. In Arklow, the lads put on a great performance to come away with a well-merited victory.
Played in sweltering conditions, the team raced into a lead thanks to scores from John O'Boyle, Danny Howard, John Byrne and Rory Coyle. The sterling rear-guard work comprising Cillian McInerney's blocking, Niall Barry's determined defending and Dexter Whyte's vision limited their opponents scoring opportunities.
This match had everything, even including the drama of an own goal! Chairman Larry Howard on the side-line had visions of Mayo vs the Dubs but thankfully the goal went our way!
A fine solo score on the run by Sal Maxwell brought us clear when halftime came.
The second half turned into a real battle with strong play from Senan Dutton, Harry McGeehan and Ben Willis as well as the assured kick outs from Shane O'Dowd won the day for the lads.
U15 Boys Take Feile Crown: Victories over An Tochar, Blessington and Annacurra meant that our U15 boys took the Group 1 title at today's Feile competition. Féile na nGael is a club festival at Under 15 level, involving teams from across the Association. A core aim of Féile tournaments is to promote a philosophy whereby every player has the opportunity to participate and play in their respective Féile tournament at a level commensurate to their age, skills and strengths.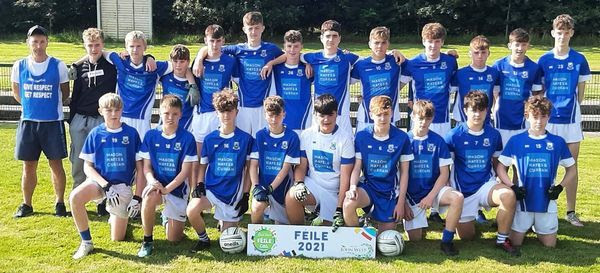 Éire Óg All Stars Ready to Sore: We are proud to announce a new inclusive GAA programme to provide those with additional needs the opportunity to play Gaelic games in a fun, non-competitive and inclusive environment.
Start date: Wednesday 8th September
Time: 5-6 pm
Contact: Lisa on 086 1582772
More info at https://eireoggreystones.com/eire-og-all-stars/

Wicklow Ladies Footballers in All Ireland Final: The Wicklow adult ladies footballers will play Antrim in the junior All-Ireland final on 5 September in Croke Park with three members of the club involved. Tickets are available HERE.
Going Through Their Paces. Thanks to the club's Games Promotion Officer, Kevin Spain for putting on a coaching session for our academy coaches. This is all part of ensuring children in the club are provided with a high standard of coaching. We are on the lookout for additional coaches. All details at https://eireoggreystones.com/become-a-mentor/