Gaelic 4 Mothers & Others: Do you want to have fun, get fit and meet new people? Then join our new Gaelic for Mothers and Others (G4M&O) group.G4M&O is an initiative that sees women playing Ladies Gaelic Football in a fun, non-competitive and social environment.
First session: 12 October, 8:15 pm
Contact: Nicola, 087 9386021
More info at: https://eireoggreystones.com/gaelic-for-mothers-and-others/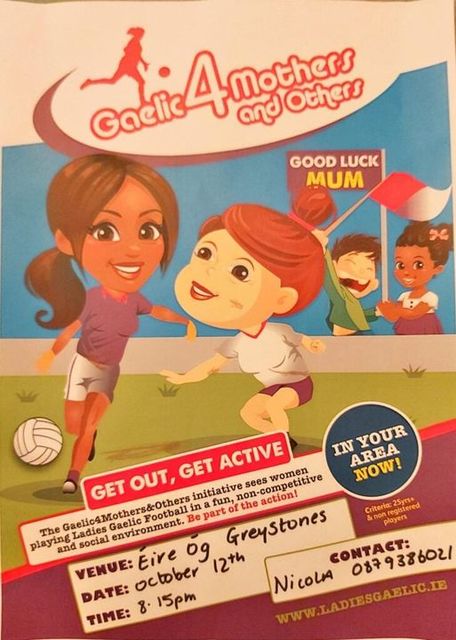 U11 Boys Footballers Ending Season in Style: We had mixed fortunes in the two finals today, with one of our teams coming out on top and the other narrowly missing out. Both teams put in terrific performances and regardless of the results all the lads should be very proud of how they played today and all season. They are a great bunch and it is a privilege to train them. The teams will continue training till the midterm break and they still have the other U11 football team playing in their final on Wednesday plus two U11 hurling finals next weekend and one more U10 hurling fixture.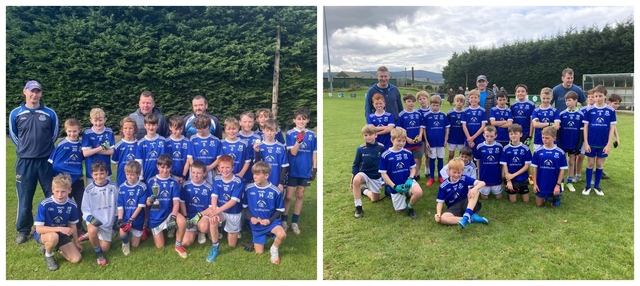 Coaching Education: Our Games Promotion Officer, Kevin Spain is planning to hold coach education courses in the Autumn. Depending on numbers, there will be the foundation award or Level 1 award. Register your interest HERE.
Adult ladies footballers win championship opener: It was a positive start for our adult ladies team who got their championship campaign off to a win in an exciting contest against St Nicholas last weekend. It was a thrilling match with the girls coming out on top by three points, 6-08: 5-08. They'll be hoping to make it two wins from two when they travel to play Tinahely tomorrow. Read the match report at bottom of the page.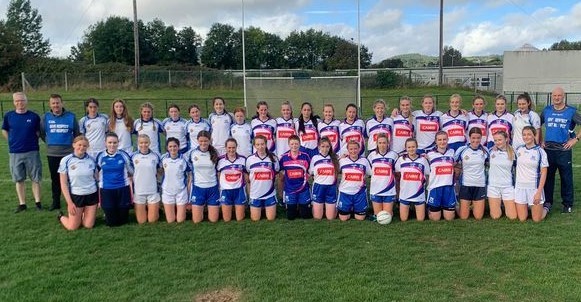 Weekly lotto: There's been great support for our weekly fundraising lotto of lately, so we'd really appreciate if you could keep it up. Last week's winning numbers were 4, 12, 18 & 27. Nobody matched all four numbers so another €100 is added to the jackpot which rises to €3,800. Lorraine Rocket and Emer Marschner bagged the weekly cash prizes. Get your tickets for next week's draw https://bit.ly/3xjk0Sz
It's 100% for adult camogie team: This team are blazing a trail through the Wicklow junior championship. They won their first match, were leading their second when it had to be abandoned and today, they made the long trip to play Knockanana and came away with a win. They are looking good heading into the knock-out phase.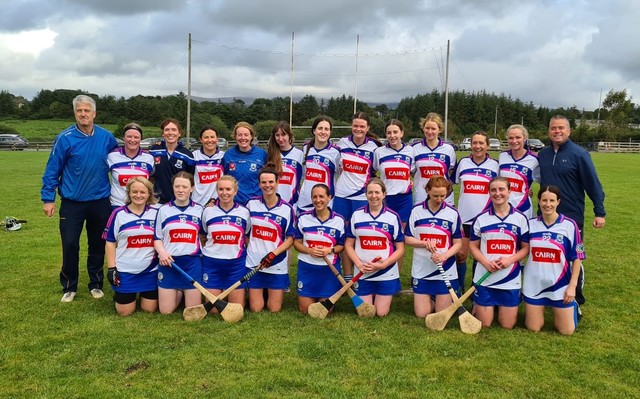 Adult ladies in championship win: Éire Óg came out the right side of an 11-goal thriller with a very strong St Nicholas side by 6-8 to 5-8 in the Junior 'A' football championship on Sunday morning.
Wicklow star Laurle Aherne was leading the charge for her Éire Óg team as her direct running caused her opponents all sorts of problems, helping her create many scoring opportunities for her teammates. With under 10 minutes remaining, her team were behind by three points before she went on surging run which opened up the opposition defence, her powerful shot was saved, however, Rachel Purcell scored the goal off the rebound levelling the game up.
A few minutes later, the ball landed into the hands of Purcell who buried the ball in the back of the St Nicks net in an opportunistic finish, it was a crucial moment in the game which ultimately secured her team the victory.
It was one of those games that you wish there didn't have to be a loser as St Nick gave a very impressive account of themselves; Katie Corrigan, Jill Fadian and Laura Miley all standing out.
Thankfully, the rain didn't reach Greystones before this eagerly anticipated championship opener. The first quarter was frantic with both sets of players given plenty of space to move, with very loose marking being used by both sides. 4-6 was the combined score of the first quarter, all the scores coming from play.
St Nick's raced into a six-point lead with goals from Corrigan and Miley, however, Éire Óg responded with two goals of their own from Purcell and a well taken goal from Ciara Patrick who was given the opportunity by Aherne who did some great direct running in the build-up. Aoife McTague got a couple of nice points while Louise Farrell and Miley got the pick of the scores for St Nicks. It was 2-03 to 2-03 at the first water-break.
The ladies from Greystones dominated the second quarter, scoring an impressive 2-2 in this period. The visitors were really struggling to deal with centre half-forward Aherne whose acceleration was proving too much for them to handle. She scored two wonderful goals in this period. Despite the hosts taking control, Miley was keeping her team ticking with a couple of scores on the other end. It was 4-5 to 2-7 at the half-time interval.
This was a game where the momentum kept swinging back and forth between both teams. The third quarter was a particular period of dominance for the visitors as they levelled up the scores despite trailing by five points at the break. They got two more goals, a lovely, weighted pass found Fadian who kicked the ball in the back of the net, spurring on a St Nicks comeback, Corrigan bagged her second goal of the contest a few moments later. It was all square heading into the last quarter at 4-7 apiece.
If you blinked, you would have missed something in a high tempo and entertaining last quarter. The visitors got into the driving seat scoring 1-1 without reply, racing into a four-point lead.
From a free, Claire Grace dropped the ball into the danger zone with the ball being punched into the Éire Óg goal by Corrigan, some of the crowd shouted for a square ball, but the goal stood. However, it would be the Greystones women who would get the victory.
Aherne was racing her way towards goal, however, her thunderous strike was saved but Purcell scored the goal to level the scores once more. A couple of minutes later Purcell would score another goal, securing the victory for her team and a personal achievement of a hat-trick.
Éire Óg Greystones: Alana Johnson, Sophie Gummerson, Orla Minogue, Ailbhe Costello, Megan Maguire, Megan Healy, Ella Horgan, Eimear Ryan, Katie Lawless, Jessica Maxwell, Laurle Aherne, Aoife McTeague, Kerryann Hamilton, Rachel Purcell, Ciara Patrick.