hree club players bow out of county scene: This week, three of our club's greatest ever players announced their retirement from the inter-county scene. Stephen Kelly, Darren Hayden and Billy Cuddihy each of whom has given more than a decade of service to the Wicklow's senior men's football and hurling teams have decided to call it a day.
Needless to say, the club is hugely proud of them and what they've achieved. They are superb role models for any young boy or girl in the club. They played the games in the best spirit and conducted themselves with class off the field too. Although they'll no longer be wearing the blue and gold of Wicklow, we hope to see them playing for the club for many more years to come!
Club lotto: Please don't forget to support our weekly club lotto. Inevitably, we haven't been able to engage in our usual fundraising efforts for the last twelve months, so our lotto is our sole source. The winning numbers in last week's draw were 4, 9, 11 and 18. The weekly cash prize winners were Ann McElheron and Adrian Marsh. The jackpot for tomorrow's draw is €1,300. Get your €2 tickets HERE.
Nursery and juvenile section: With the latest government announcement, we're hoping to get our nursery going in early May. So, if your child or children were born in 2014, 2015 or 2016 and are currently in primary school, get them involved! We also provide Gaelic football, Ladies Gaelic football and camogie for children up to the age of 18. Read more HERE.
Where are they now? #5 Míde Ní Shúilleabháin: Now back living in (the other side of) Wicklow after stints in Belgium and France, rather than success on the field during her playing days with the club, some of Míde's fondest memories are forging bonds and friendships for life, raising the profile of women's sport in the club and paving the way for the next generation of girls and women. What a great legacy! Read Míde's story HERE.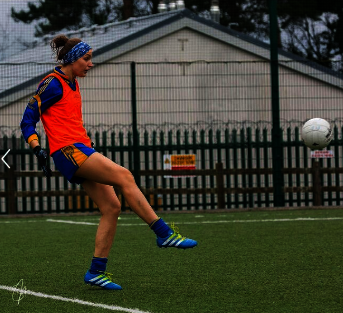 Sympathies: The club would like to offer its condolences to Fergus O'Carroll on the death of his father Dermot. Fergus has been a long time mentor of boys football in the club and his son Fionn plays at adult level in the club. Ar dheis Dé go raibh a anam