Level One Coaching Course: There are still some places left on the Level One Coaching Course. This is for those who have completed the foundation course and have at least 12 months of coaching experience.
Wednesday 24th November 7.30pm – 9.30pm.
Saturday 27th November 9.30am- 11.30 & 12md-2pm.
Wednesday 1st December 7.30-9.30pm.
Saturday 4th December 9.30am- 11.30 & 12md-2pm.
Wednesday 8th December 7.30pm -9.30pm.
Saturday 11th December (for hurling only i.e. accreditation for dual award) 9.30am- 11.30 & 12md-2pm.
For more information contact kevin.spain.gpo.wicklow@gaa.ie
Social hurling: As things quieten down on the playing front and competitive games are coming to an end, the club is continuing to run social hurling for boys aged 14-16. This is a great way to keep your skills in focus or if you've never played the game, it's a great chance to give it a try. If interested, you can contact Mark at 085 2525137.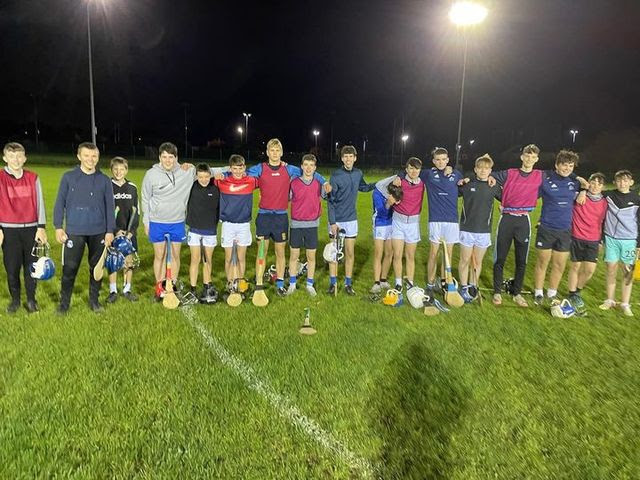 Disappointment for both adult male football teams: It was a bad end of year for both our adult men's football teams with both teams being relegated. Our senior team was defeated by a single point against Bray Emmets meaning that we will be in the intermediate grade next season. While our Junior A team had a brilliant victory against Aughrim in their final group relegation match, the other match in the group went against us meaning that this team will operate at Junior A level next season. Hard luck to all players and mentors.
One hundred first years in football tournament: We had over one hundred first-year students from secondary schools in Greystones and North Wicklow participate in a football competition in our grounds this week. This is all part of our drive to provide Gaelic Games to secondary school students. Well to St David's, Temple Carrig, Greystones Community College, Coláiste Chraobh Abhann and Coláiste Ráithín.
Weekly fundraising lotto: The winning numbers in last week's lotto were: 4,11,18 & 23. Nobody matched all four numbers, so another €100 is added to the jackpot meaning tomorrow's draw is for €4,400. The weekly cash prize winners were John Keane and Rachael Kennedy. Get your tickets HERE.