Club players in county action: We had three players involved in last weekend's Wicklow Senior ladies football team clash with Longford. Katie Lawless started and wing forward and Laurie Ahern and Megan Healy were named among the subs. Ultimately, the team were defeated on a scoreline of 1-07:0-08 in a match they could have won. But well done to all.
Hurling reeling in the years: We've recently published a great selection of photos from our hurling past. They showcase some of the club's juvenile teams from the last twenty or so years and feature some familiar faces along with others who are still togging out today. Well worth a look, with thanks to Colm Gaskin and Paul Cuddihy for the snaps. Check them out here https://bit.ly/3felKWD
Weekly lotto: Did you know that our membership fee only covers 25% of our running costs, the rest we fundraise, of which our weekly lotto is the main source? So why not have a go? The winning numbers in last week's draw were 5, 11, 22 and 23. The weekly cash prize winners were Lorna Gammell and Finian Quinn. Get your tickets for next week's draw HERE.
Coaching profile: One of our juvenile coaches, Mark Donnelly was interviewed in the Bray People last week where he outlined his views on coaching and handed out a few tips too. Read what he had to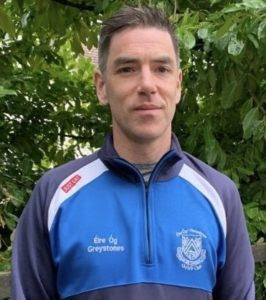 15 Coach Profile Questions
Name: Mark Donnelly
Club: Eire Og Greystones
Age Group You Coach: u13s and Academy
Would you change any of the GAA Playing Rules?
In hurling I'd award two points for a side-line cut over the bar, it's an incredible skill
Why did you get involved in coaching?
My son Sean was starting off and I got pulled in from the side-lines
What is the most rewarding element of being a coach?
Seeing the players enjoying themselves
What advice would you give to young players?
Don't be afraid to make mistakes and practice the skills at home
What resources do you use to assist you in your role?
Paul Kilgannon's books are great. Dublin GAA put out a book called 'Give Us A Game' which is full of training games. I follow the likes of Colm Nally (Meath coach), Barry Mullane (@coaching_active) and Tom Fitzgerald GDA (@pookiefitz) on twitter and get lots of ideas from them
What does success look like to you?
Beating Kilcoole and Bray Emmets! Only joking, success is seeing the young player's skills improve each year
What do you see as your three main responsibilities as a coach?
Making sure the players are enjoying training and matches
Teaching the skills
Providing encouragement
How important is winning to you? why?
Winning does increase the player's self-esteem and gives them confidence however at underage I don't put much emphasis on winning, at that age skill development and all players getting equal playing time is more important.
You have 10 footballs & 10 cones in your coaching kit bag. You are in charge of 30 players how would you conduct training to maximise all equipment & player involvement?
3 squares with 10 players to each square, put 3/4 players on corner of each square and have them doing 2 mins of picks up, 2 mins of handpassing, 2 mins of kicking, 2 mins of chest catch, 2 mins of high catch – then into 3 5-a-side games, swap teams after 10 mins
What part of training or games do you dislike the most?
One sided games when winning or losing, everyone (kids included) enjoy competitive games
What does a normal coaching week look like for you and the team?
Training Monday evening, match Wednesday and training again Saturday mornings. Lots of time outside of that organising matches, equipment, pumping footballs, booking training slots, washing jerseys, doing courses
Why is planning your coaching sessions so important?
Going in with no plan always leads to poor sessions, best to have a plan focusing on areas that need work
Why is feedback so important to player development?
I still remember feedback I got as a young lad, the players respond to encouraging feedback
If one of your players are constantly overplaying the ball how do you get the player to correct this?
In training put in a rule like only one bounce, one solo to encourage heads up and seeing the options
Explain how you have kept up to date with coaching methodologies and tactics?
I've done Award One coaching course and attend coaching webinars, Martin Fogarty's regular hurling webinars are a great source of information. Also the GAA coaching site and twitter