Celebrating 25 Years of Ladies Football: It was a great night in Greystones Golf Club last weekend as we celebrated 25 years since the introduction of ladies Gaelic Football into the club. There were lots of familiar faces and others who we hadn't seen in quite a while. It was a great opportunity to reminisce, swap stories and remark on the achievements. We'll publish some of the photos from the night which catalogued the last 25 years but, in the meantime, there are photos of the night, courtesy of the Greystones Guide HERE
Fundraising Lotto: Proceeds from our fundraising lotto help the club keep the lights on and pay for lots of ancillary costs, so please support. Last week's winning numbers were 2, 5, 10 and 25. The weekly cash prize winners were Colm Dorgan and Seamus Aherne. Get your tickets for the €5,300 jackpot HERE
Healthy Club Status: In recognition of their exceptional contributions to the health and wellbeing of their members and local communities, 11 clubs in Wicklow have been awarded official accreditation as Irish Life GAA Healthy Clubs-and our club is one of them!
This milestone follows almost two years work by the clubs' teams of volunteers who give up their free time to make the GAA and Ireland a healthier place for everyone to enjoy. Our Healthy Club leaders, Ciara Fagan and Sinéad Ní Dhúill are photographed with Leinster Council Health and Wellbeing Chairperson Dave Murray. Learn more HERE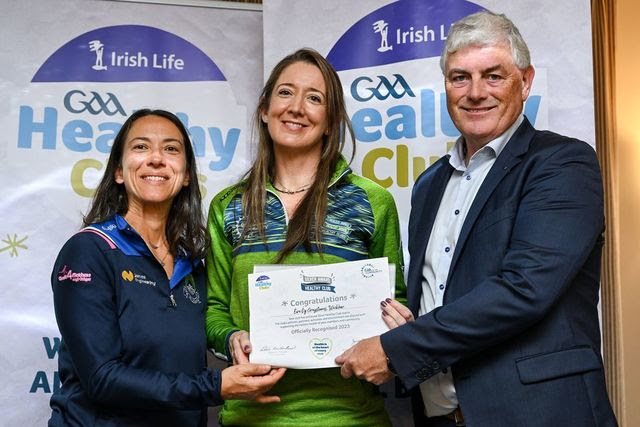 AGM 2023
Thursday, 9 November
8 pm
Clubhouse
It's a chance to have your say and hear more about how the club is run. 
Local Secondary Schools in Action: It's been very positive to see our local secondary schools fielding teams in recent weeks and playing matches at Pairc Mhic-Shuin/de Barra. In the last couple of weeks, we've had girls and boys teams from both Greystones Community College and St David's compete and 1st year and junior level. To read a really good match report from a junior boys match between the two schools last week, go to www.stdavids.ie/blog