Junior B Adult Men's Football
Éire Óg Greystones 2-6: Avoca 0-11
Éire Óg and Avoca served up a ding-dong battle in the quarter-final of the Philip Doyle Junior 'B' football championship played at Rathnew on Thursday evening with the eventual winner in doubt right to the end.
The essential difference between the sides was the two goals, one in each half, scored by Éire Óg. Goals win matches and they certainly won this one.
It was a great night for Conor Mackle, who only entered the fray as a substitute in the final few minutes. Avoca were hanging on to a one-point lead and counting down the minutes on the clock.
Mackle brought the sides level at 2-5 to 0-11 as the game moved to added time and one minute later the same player struck for the winning point.
Avoca attacked strongly in the remaining minutes but eventually their attack broke down, Éire Og cleared and the final whistle sounded. That's how close this game was at the end.
Éire Óg attacked straight from the first-half throw-in and were wide. But Avoca began to run at the Greystones defence and had two points on the board from Dale Fluskey frees after four minutes.
Centre-forward Adam Arslan was flying in these opening stages and his defence splitting runs at great pace drew a number of frees.
The Greystones side were playing away from the village end and working the ball forward with the help of an attacking half-back line.
Avoca were defending comfortably and Rob Wilson, Liam Dickenson, Mikey Fahey and Aaron Tuke, with the aid of their retreating half-forwards left little space for the Éire Óg attack.
Corner-back Darragh Browne got the Greystones men off the mark with a point in the sixth minute. Browne suffered an injury shortly after that and was replaced by Eoghan O'Longaigh.
Avoca, whose opening scoring burst had fallen off a little, got going again and Dale Fluskey was set up by Adam Arslan for a point. It might have been a goal but at that stage it didn't seem to matter.
They had regained the momentum and as the game approached the quarter-hour mark, Fluskey pointed another free, awarded for a foul on Arslan. 0-4 to 0-1 in favour of Avoca now.
Éire Óg were still getting forward but were wasteful with a few scoring chances. They had six wides in the first half whereas Avoca had just one. But, despite an abundance of play, the lads from the mining village did not score in the second quarter.
They carried the ball forward in attacking waves but were guilty of overplaying in the middle third, with the eventual mistake and turnover by Éire Óg. The Greystones side got a big break when a defensive error allowed substitute Eoghan O'Longaigh through for a goal.
The game was now level at 1-1 to 0-4 and Greystones enjoyed the better of the final ten minutes of the first half. However, their only score came from a Conall Deeney free to leave them in front at 1-2 to 0-4 at the half-time break.
Avoca obviously had a big reappraisal at half-time and came out in a determined mood for the restart. Within ten minutes they had five points in a row on the board from Andy Doyle, Dale Fluskey two (one free) Andy Doyle again from an Arslan pass and James Murray to leave the black and amber lads ahead by 0-9 to 1-2 and looking like they were on their way.
Conall Deeney pointed an Éire Óg free to halt the momentum, but Aaron Tuke brought Avoca to 0-10 after 13 minutes. The Greystones men began to ring the changes off the bench. They introduced Jamie McDonald and Neil Browne while Avoca brought Dean Power into the fray.
Jamie McDonald reduced the gap to a goal with a point from play. After 16 minutes the sides were level. Neil Browne fielded a ball inside the Avoca defence and shot a ground ball past John Harpur. 2-4 to 0-10 and it was definitely game back on.
With excitement mounting both sides battled for supremacy. Avoca were carrying the ball forward out of defence with Aaron Tuke and Mikey Fahey getting into attack regularly. Dean Power put his side back into the lead with a point after 25 minutes.
And they were doing a good job of holding on that advantage when Éire Óg played their trump card. Conor Mackle came off the bench, scored the levelling point at the end of normal time and struck the winner two minutes into added time.
It was a cruel blow for Avoca but the real killer for the black and amber was the concession of the two goals earlier in the game. Ironically, the Éire Óg substitute's bench contributed all but three points of their winning score of 2-6. Final score: 2-6 to 0-11.
Éire Óg: Rob Nolan; Darragh Browne (0-1), Conor Nolan, Andy Clarke; Eoin McTague, Daire Devine, Luke Prendergast; Dan Clark, David Prendergast; Luke Bradley, Conall Deeney (0-2, 2f), Oisin Shanahan; Eoin O'Neill, Jack Mockler, Daniel Healy. Subs: Eoghan O'Longaigh (1-0), Jamie McDonald (0-1), Neil Browne (1-0), Conor Mackle (0-2)
Stylish New Tops for our Adult Ladies Footballers Thanks to Fortis Recruitment  https://www.fortis.ie/ or sponsoring new training tops for our adult ladies footballers. Pictured is Cormac Loughlin from Fortis and two of our ladies team members Orla Minogue and Rachel Coyne.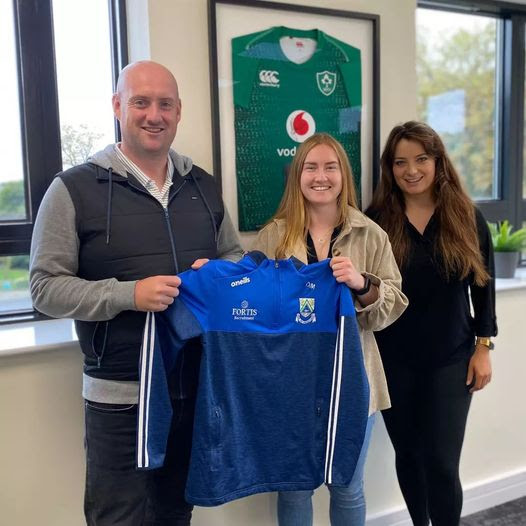 Junior B Adult Footballers into Semi-Finals: A dramatic late comeback saw our adult men's Junior B (2nd) football team advance to the semi-final. It was substitute Conor Mackle who kicked two late points to give the team a victory on a score-line of 2-06:0-11. Read a match report HERE.
U11 Boys Action: It's been a frantically busy week for our U11 boys footballers and hurlers. The footballers played St Kevin's and Kilmac while the hurlers faced Glenealy both home and away. So, that's four matches in just seven days. It's no wonder that the lads' skill levels are coming on leaps and bounds.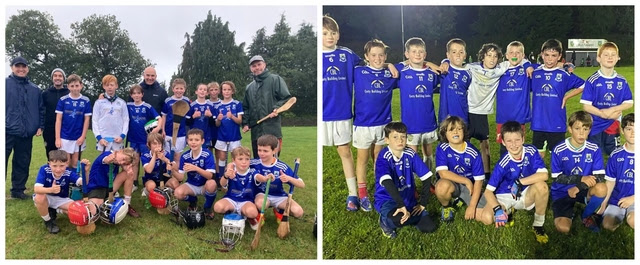 Weekly Lotto: Congrats to Catherine Doherty and Brian Cassidy who bagged the weekly cash prizes in this week's lotto. The winning numbers were 8, 9, 10 & 18. This Monday's jackpot is €2,600. Get your tickets HERE.