We'd several teams across all codes in finals action at the weekend, too many to fit into one edition of the newsletter, so I'm going to include some reports this week and save some for the next one!
Junior Hurling Narrowly Defeated: A flurry of five second-half goals was of the story of this pulsating Junior A hurling final on Saturday as our lads took on Barndarrig in Aughrim. This season has been the best campaign by our adult hurling second team in many years. And while the silverware eluded them, they can be proud of the effort they put in. Read a report of this exciting match HERE.
Ladies Gaelic Football Celebrates 25 Years: As well as on-field activity, there's also an important off-field event coming up this weekend. We are holding a day of celebration to mark the 25th anniversary of the introduction of ladies football into the club. During the day, we'll be hosting several visiting teams for matches at the club, while later that evening we're holding a drinks reception from 8 pm in Greystones Golf Club, no ticket necessary but just RSVP to Oliver Leonard at 087 2548648 if you plan to attend More info HERE.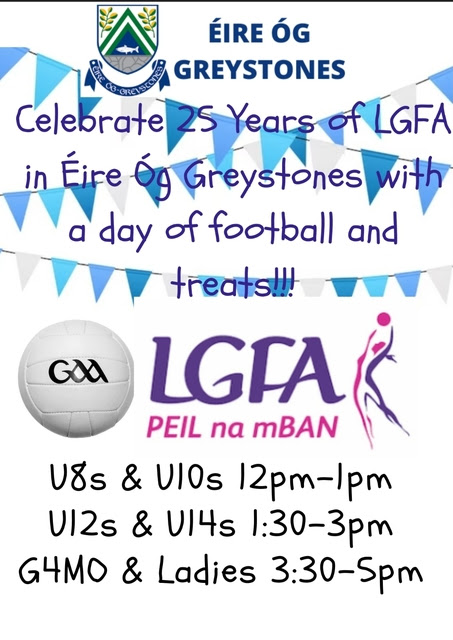 U13 Boys Footballers Excel: We had no fewer than FOUR boys U13 teams in finals over the weekend. Including among this mighty foursome were our D and E teams. The Ds beat a strong Tomafinogue team to claim the shield while the U13 E team were shield runners-up against Carnew yesterday! These lads have had a brilliant season, with great credit to them and their coaches.
AGM: The club's Annual General Meeting takes place on:
Thursday, 9 November
8 pm
Clubhouse
Weekly Lotto: The jackpot now exceeds €5,000 so you really should be getting in on it. David Keddy and Nick Fay bagged the two weekly cash prizes. The winning numbers were 9, 14, 16 and 23. Tickets are just €2 and they're available HERE.